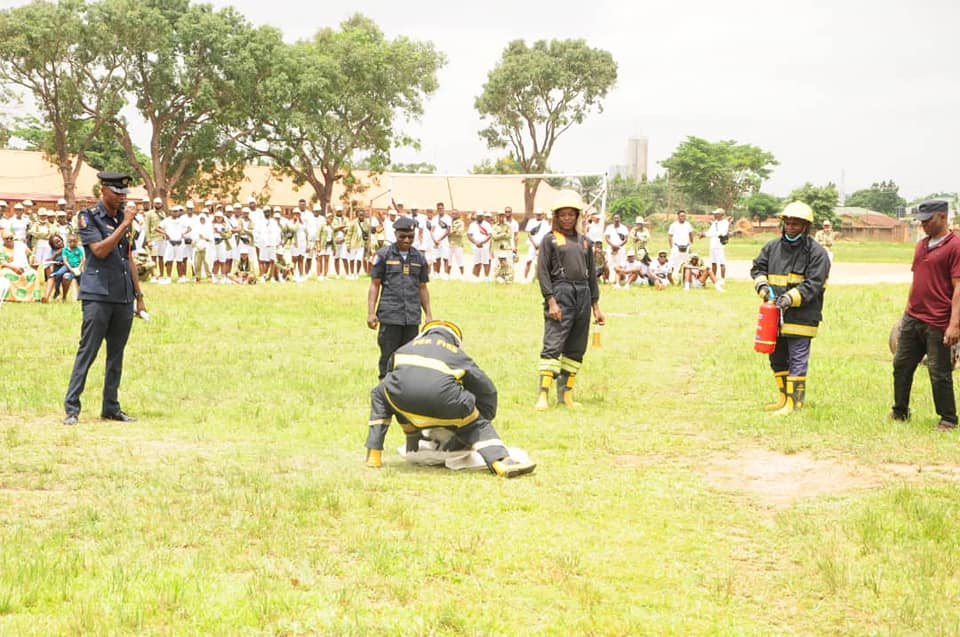 Social competitions and activities in NYSC camp are always fun. It is what eases the tension in the camp. it can be boring but if you are an adventurous type, you will enjoy it.
The National Youth Service Corps (NYSC) camp's activities follow a set schedule. It is jam-packed with many activities.
These events are designed to involve and inform corps members about the principles of service. At times, it can get monotonous. But the entire program is enjoyable.
Participation is beneficial whether you are a member or a sponsor. You have the option of joining your platoon or cheering them on as a fan. The majority of competitors also need financial support.
The platoon officer will choose participants based on nominations and volunteering right after the swearing-in ceremony. Each sporting event will be publicized, and individuals who are interested in participating will show up.
The social director has a key role. To guarantee that the platoon succeeds, they collaborate with the platoon leader and officer. They achieve this by telling corps members in various platoons, activities to prepare for, how previous batches did it, and the judges' criteria.
Back to top
1 )
Social Competitions and Activities in NYSC Camp
1.1.
1. Cultural Dance and Drama:
A few dancers and performers are chosen to compete on behalf of the platoon in this competition. Officials from the NYSC orientation camp make up the panel of judges, who declares the winner when the tournament is over.
The top drummers and dancers are then chosen from the group. Artists, on the other hand, are evaluated on their stage presence and inventiveness.
Diversifying the tribe is one approach to making a dramatic statement. Each participant is free to develop their own custom. A major condition is that none of your stage props may be dropped, as doing so could result in a lower grade.
Voices must be audible when the microphone falls silent. The judge's ruling has been shown to be influenced by cheering spectators and supporters. The plot must complement the topic. The topic is always chosen in accordance with the NYSC program.
1.2.
2. Variety night:
A requirement for all camps. Here, we have Mr. Macho, the most attractive male camper, and Miss NYSC, the most attractive female camper.
1.3.
3. Miss Big, Bold, and Beautiful:
A beauty pageant for women sized 18 and up, between fat girls from each platoon
1.4.
4. Miss Petite:
This is a beauty pageant for petite girls.
1.5.
5. Quiz competition :
(two representatives from each platoon).
1.6.
6. Intellectual Work
this is also known as debate (two participants from each platoon).
1.7.
7. Cooking competition:
(the menu won't be revealed until the time). Every platoon has two representatives. The necessary tools, such as pots and frying pans, will be given.
1.8.
8. Camp idol:
This involves singing by a guy and a girl from each platoon.
1.9.
9. A drill battle between platoons:
This is all about matching managed by socials and reception committee coordinated by men of the Nigerian army.
1.10.
10. Boys of Man O'War
this group is responsible for organizing a carnival where each battalion is dressed in a tribe costume.
1.11.
11. Man O'WAR drills competition
This is usually between just two platoons before the climbing trees and rope part
Back to top
2 )
Sports
 Football competition by males

 Volleyball game by females

 100m relay race by boys and girls

 Table tennis competition by male and female
Back to top
3 )
conclusion
Take the form from the platoon inspector, fill it out, and give it back if you're interested in participating in any of the following events. For the pageantry shows, submit your paperwork as soon as possible because you will be disqualified if you don't. The maximum time for substitutions is two days.
Note that all competitions in camp are friendly. As much as you should take it seriously, you shouldn't feel sad or lose out on the fun because your platoon is not doing well in the competitions.
There are some games that are not part of the official competition but can be played by anybody who is interested. Example of such is ludo, draft, and chess.
Also, you should not try to lobby the soldiers to influence your posting. If you want to influence your posting while in camp, read NYSC PPA- how to influence your posting from camp.
Back to top