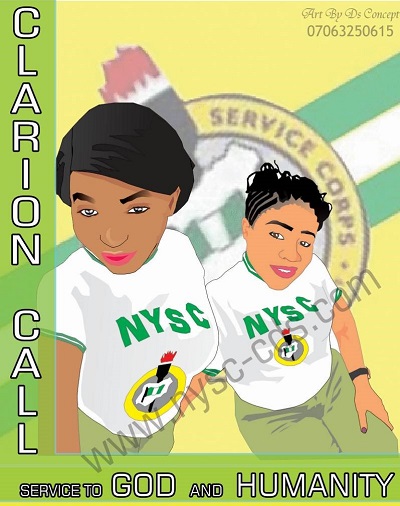 NYSC Registration 2022 Guidelines and Requirements are properly harnessed in this article to make your registration process easy.
The NYSC registration portal for 2022 is now open for applications. This page contains further information about the NYSC registration 2022, the NYSC registration portal, and other associated information that will assist you in submitting a successful application.
Back to top
1 )
NYSC Registration 2022 Guidelines and Requirements
1.1.
NYSC Registration 2022
Are you a prospective corps member who is having trouble using the registration portal for the National Youth Service Corps? If that's the case, we've got you covered!
We took the effort to develop this article to assist those potential corps members who are having trouble logging into the registration page.
The goal of this post is to lead you through the registration procedure. So keep reading to find out how to sign up for the current National Youth Service Corps.
1.2.
NYSC Registration Portal 2022
The registration site at portal.nysc.org.ng/nysc1 is now open for business. This website will be used to apply for National Youth Service Corps membership.
This page will show you how to use the official NYSC registration portal to successfully register. As a result, take this guide carefully because it contains all of the information you require.
The deadline for completing the NYSC application has not yet been set. So, keep reading to find out more about the National Youth Service Corps enrollment process and the opportunities available.
Do not apply through any other website than the official NYSC registration portal to prevent falling into the wrong hands.
Please keep in mind that once the NYSC registration deadline has passed, the National Youth Service Corps may decide not to extend the registration process. So, if you want to be secure, submit your application before the deadline.
Back to top
2 )
Requirements For Registration/Mobilization of Graduates
Prospective corps members should take note of the following for strict compliance to ensure a smooth registration:
Before completing the registration process, prospective Corps members should double-check that their e-mail addresses and phone numbers are valid. The email address and password will be used to access the NYSC portal in the future, so keep them safe.

Prospective Corps members who have been trained locally are expected to register using the correct Matriculation numbers.

Only individuals whose names appear on the Senate/Academic Board Approved Result lists supplied by their Institutions will have access to the NYSC registration portal.

Prospective corps members who are foreign-trained or have obtained online certifications should check to see if their institutions are accredited. They should seek assistance from the Federal Ministry of Education.

During registration, the letter of evaluation must be uploaded.

Those who graduated from institutions outside of Nigeria (foreign-trained graduates) or who got online international certifications must register on the NYSC website and upload the following documents:

West African School Certificate (WASC) or equivalent; General Certificate of Education (GCE O' Level) or equivalent; NECO (with not less than 5 Credits at 2 sittings) or equivalent; or High School Diploma or equivalent.

Higher National Diploma (HND) Certificate or a First Degree (Second Degree or Ph.D. not necessary).

Official First Degree or HND transcript in its entirety.

The personal data page and departure date are shown on an international travel passport.

Instead of original Degree/HND Certificates, ATTESTATION LETTERS OR TESTIMONIALS are not admissible.

All working-class graduates and foreign-degree graduates must upload their original ADMISSION LETTERS and LETTER OF APPROVAL.

All graduates of medicine and other health-related studies, such as nursing science, laboratory science, physiotherapy, pharmacy, and so on, must have a current professional license, which they must submit.  A license that has expired is ineligible for mobilization.

Prospective corps members who studied in non-English speaking countries are responsible for having their certificates and transcripts translated into English before uploading. This type of translation must be completed in approved institutions or embassies.

All graduates of Medicine, Veterinary Medicine, Physiotherapy, Radiology, Optometry, Medical Laboratory Science, and Pharmacy should have their Certificates of Registration with their respective professional organizations. Receipts of payments are not accepted.

Unlike in the past, foreign-trained graduates are not required to visit NYSC Headquarters in Abuja for document verification. This activity will now take place at Orientation Camps. They should just print their call-up letters from the internet and report to the Orientation camps in their states of deployment, but they must bring the original with them.

Anyone who submits a forged document will be demobilized, decamped, and turned over to law enforcement for prosecution.

Passport photos should match the following requirements for prospective corps members:
Make sure your entire face is visible (eyes, nose, ears, mouth, and jaw) without bending.

Ascertain that the image is centered and fills the frame.

Ensure that the photo background is white or off-white and that there are no shadows.
Prospective corps members should never register through a PROXY. They should also keep in mind the fingers that were used to capture their biometrics, as these will be utilized for verification during the orientation sessions. Those whose biometrics cannot be validated during the orientation camp will not be registered.

Only those who want their call-up numbers delivered to them by SMS and who want to PRINT their call-up letters online are required to pay N2,786.24.

Prospective Corps members who do not wish to pay the N2,786.24 can pick up their call-up numbers and letters at their respective schools.

All potential corps members who previously paid for online registration but were not mobilized do not need to pay again.

During registration, married female potential corps members (whether locally or internationally trained) should upload copies of their marriage certificates, proof of name change, and their husband's residence.

The orientation camp is not recommended for pregnant or breastfeeding women. As a result, prospective corps members in this group should be aware that they will not be accepted.

Prospective corps members with mobilization issues who graduated from institutions in the following Geo-Political Zones should contact the following numbers:

 

08092142614 – North-central

08102790538 – North-East

08092142661 – North-West

09038034460 – South-East

08092142616 – South-West

07018836388 – South-south

All Part-time graduates must register online and wait for their Letter of Exclusion to arrive at their respective institutions. Those who wish to print the Letter of Exclusion online must spend N2,786.24 to do so.

During the online registration process, foreign-trained graduates should use Nigerian phone numbers.
2.1.
NYSC Online Registration Procedure
To register, go to portal.nysc.org.ng/nysc1/

Create an account on the NYSC registration page using your working email address.

Activate your newly formed account by clicking the activation link emailed to the email address you provided when you set up your account.

Fill in the blanks with your information.

Biometric data should be captured. This should not be done using a proxy.

Upload a passport photo with a white background that is clean and clear.

Check your registration form for accuracy before submitting it.

Accept the terms and conditions of registration.

Sign with a digital signature scanner or upload a scanned signature.

Submit the form.

Keep your login information safe for future use.
2.2.
Note:
If this is your first time registering, select "Registration for Mobilization."
Do not create a new account if you previously registered but did not complete your registration. Instead, use your old Username and Password to continue your registration by clicking "Login Here."
If you were mobilized in prior batches and have already registered online but have been unable to attend Orientation Camp, use the "Revalidation" option to have your registration re-validated.
You will receive an email notification once you have completed your registration on the NYSC site 2022. You must check your email for additional information.
Back to top