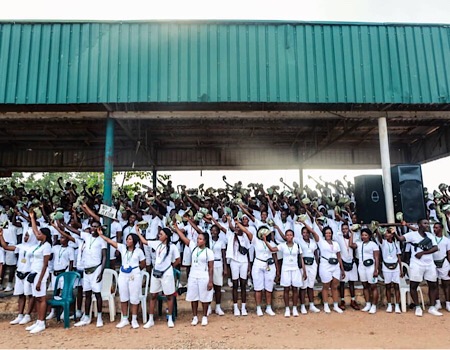 How to prepare for NYSC orientation camp is a question that almost all graduates ask and this article is set to answer it. preparing for the NYSC orientation camp is easy but not easy because if you go half hazard, you may never enjoy the experience.
NYSC has an orientation camp in almost all 36 states in the country. These orientation camps are designed to accommodate at least 2000 corps members with the sole aim of defeating tribalism and promoting unity.
Regardless of the state, you are posted to, the process is basically the same. Don't be scared, the scheme has the welfare of every corps member at heart.
You are going to an unknown place and it is only proper you get prepared physically, mentally, and otherwise.
As the saying goes "planning is inevitable; if you do not plan, you plan to fail".
The following tips will guide you on how to prepare for the orientation camp. So that, you have no issues with the three weeks you will be spending.
How to prepare for NYSC orientation camp
Tip 1: complete your clearance in school
Some prospective corps members wait for call-up letters without properly clearing themselves
from the school and only get worried when their friends' names are out. Complete your
clearance, register when it's time and follow it up. If your name does not appear on the senate
list, there is no way you are serving and for your name to be on the senate list, the criteria are
that you must be cleared by your institution.
You might want to ask; what is a senate list?
A senate list is a list comprising the names of all students qualified for NYSC. This list is then
submitted to those in charge of the scheme.
For your name to be on this list, three things are required.
You must not be indebted to the school.

You must have no issues relating to carryovers, missing scripts, etc.

You must graduate with good grades at least PASS. If not, you will be having an extra year.
Tip 2: make all your printings before camp
Printing and photocopies are usually too expensive at camp. Do your printings before you go to the camp and make enough photocopies of your documents. Get two files, one for original copies of your credentials and the other for the photocopies. For the photocopies, have as many as possible.
This will greatly reduce your expenses in camp. Although you will still have to make photocopies of some signed documents in camp, trust me, you won't feel the heat that much.
Tip 3: take enough passports to camp
You need passports for your registration in camp immediately after you arrive.
So, if you don't have any with you, you might be stranded and miss out on the benefits of arriving at camp early.
8 copies can go for as high as N1200 or N1000 in the camp. Be wise. Take your passports to camp. Although, before you leave, you might still have to take some NYSC crested vest passports which you will use at the secretariat.
Take as many as possible it's better if you have remainders than taking low-quality ones at high costs in the camp.
Tip 4: take enough cash with you to camp
Yes! Take enough cash as there may be no POS services in the camp.
Be careful with your money so you don't lose it. This is why the waist bag is very important.
Tip 5: NYSC Camp Requirements
Make sure you don't forget any of these:
Call up letter

School ID card

Registration papers

NYSC green card

Statement of result

​​​​​​.
TIP 6: Get your outfit
Importantly, you must take the following:
White shorts

.

White sneakers

.

Round-neck white T-shirts.

White socks.

Few Sunday wears.

Waist bag.
In conclusion, before you leave for the orientation camp, make some inquiries from your friends that have served or are currently serving in the state you are deployed to. This will go a long way in making it easy for you.
Good luck!